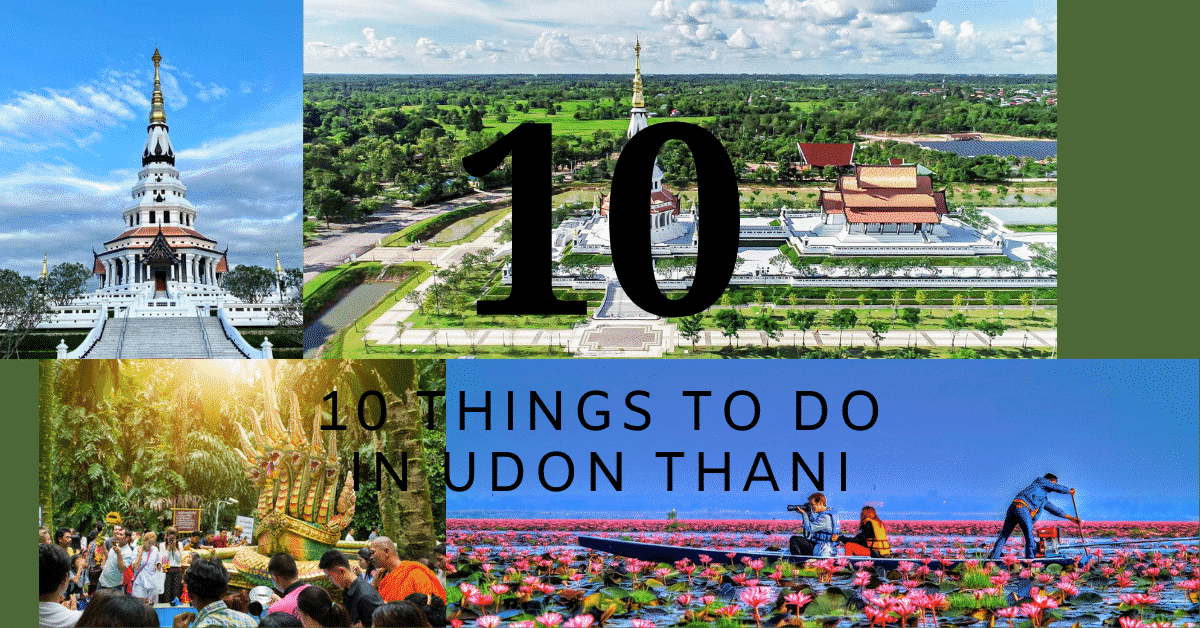 10 Things to Do in Udon Thani
1. Nong Prajak Public Park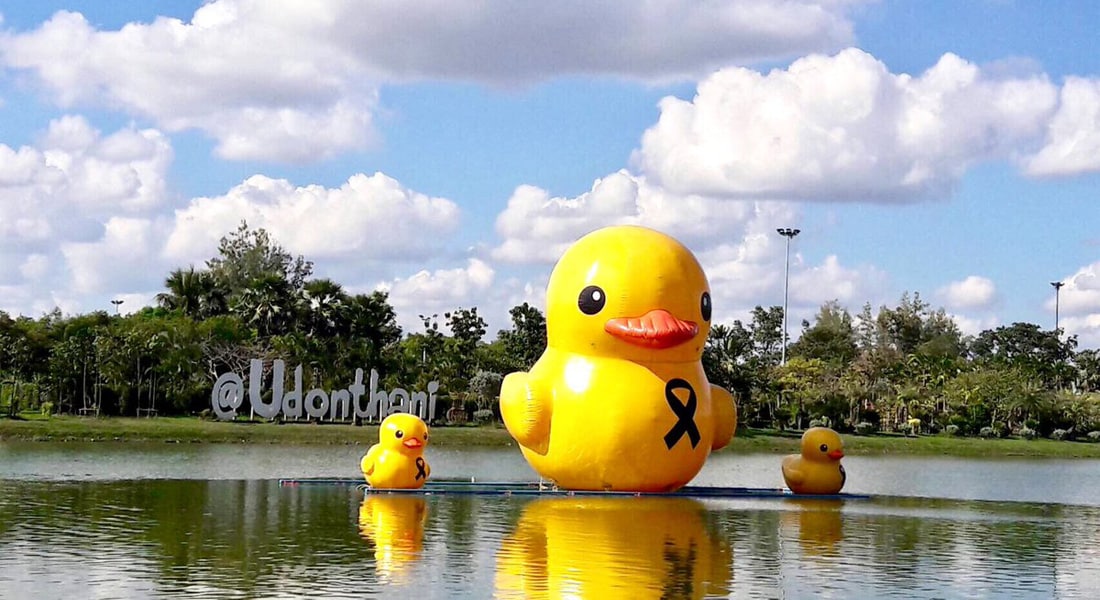 ขอบคุณรูปภาพจากเว็บไซต์ : thailandtourismdirectory.go.th
Escape the city at Nong Prajak Public Park, a green area filled with gardens and recreational space. The lake harbors fish and ducks (bring bread to feed them if you like), or walk or cycle the track around the lake. If you are feeling adventurous, join an aerobic group onshore in the evening while the kids explore the playground. For an extra dose of relaxation, make an appointment at a Thai massage spas or enjoy dinner from one of the on-site restaurants.
Opening hours: 4 am to 8 pm
Tickets: Entry free
Location: Udon Thani, Thailand
2. Shopping UD Night Market
ขอบคุณรูปภาพจาก : Facebook Fanpage UD Town 
Popular as UD Bazaar, the night market is a buzzing place, always crowded with tourists. From shops selling knick knacks, dresses, accessories and souvenirs to food stalls serving freshly cooked local food; UD Night Market is a popular hotspot and one of the best things to do in Udan Thani at night. A fountain is located at the heart of the market and one can experience live music there, every evening.
Opening hours: 5 pm to 11 pm
Location: Mak Khaeng, Mueang Udon Thani District, Udon Thani 41000, Thailand
3. Camping at Phu Foi Lom Eco Park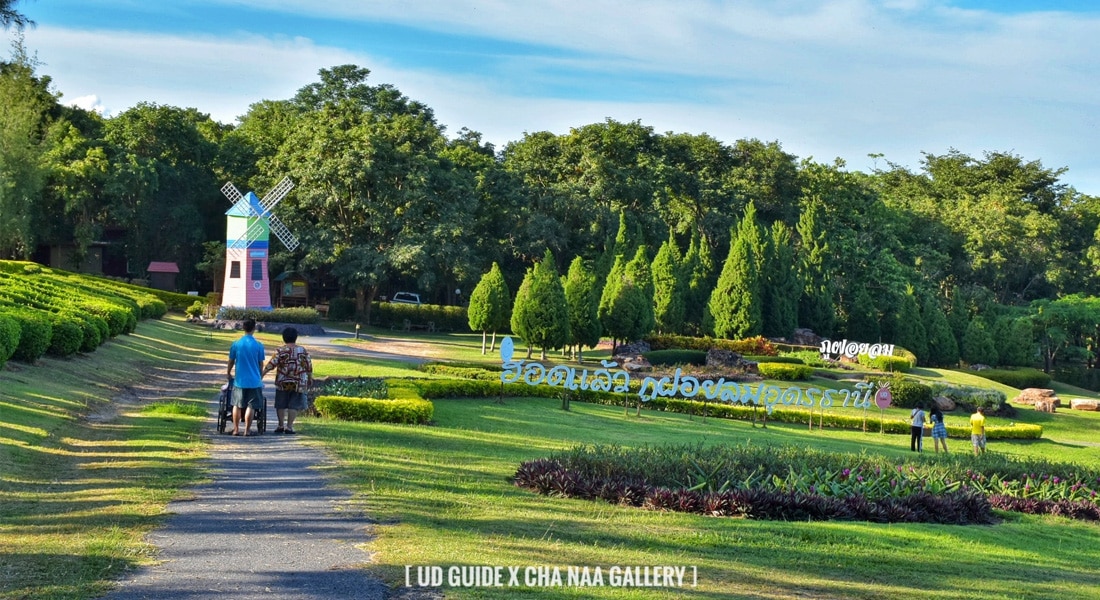 ขอบคุณรูปภาพจาก : CHA NAA GALLERY
Phu Foi Lom is an eco-park, which features luxuriant organic garden and various types of adventure activities. Sprawling over 76,000 acres of land, Phu Foi Lom showcases strawberry farms, vibrant flora and plenty of nature trails. Moreover, if you wish to try some fun and exhilarating activities in Udon Thani, engage in picnic, trekking and overnight camping in Phu Foi Lom Eco Park. Tents and other camping equipment can be hired from inside and there are food kiosks and restroom facilities available for the guests.
Opening hours: Round the clock
Tickets: Free entry.
Location: Thap Kung, Nong Saeng District, Udon Thani 41340, Thailand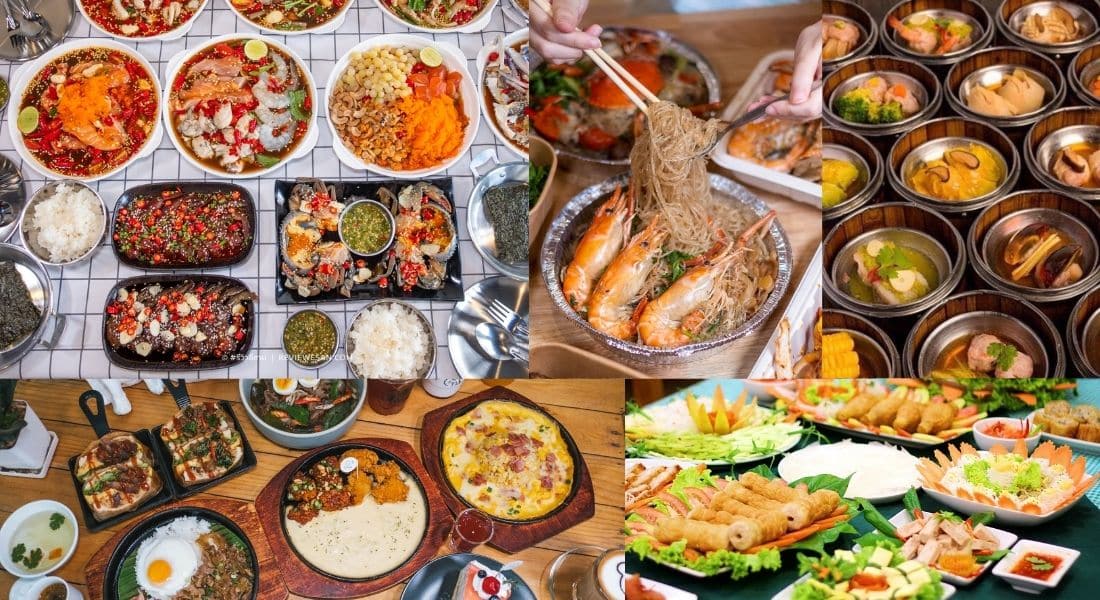 ขอบคุณรูปภาพจาก : เพจ รีวิวอุดร , เพจ วีที แหนมเนือง อุดรธานี
You should not miss out on the delicious and sumptuous Thai food, available at Udon Thani restaurants. From noodles, soups, khao sways to steak, pasta and homemade cakes; Udon Thani never fails to satisfy foodies with its unlimited culinary delights, authentic recipes and presentations. Restaurants like Rabeang Pochana, Mojo's Bar, Good Everything and Bella Italia offer great food and visiting some of these places is one of the must try things in Udon Thani.
5. See a UNESCO Heritage Site known as the Ban Chiang National Museum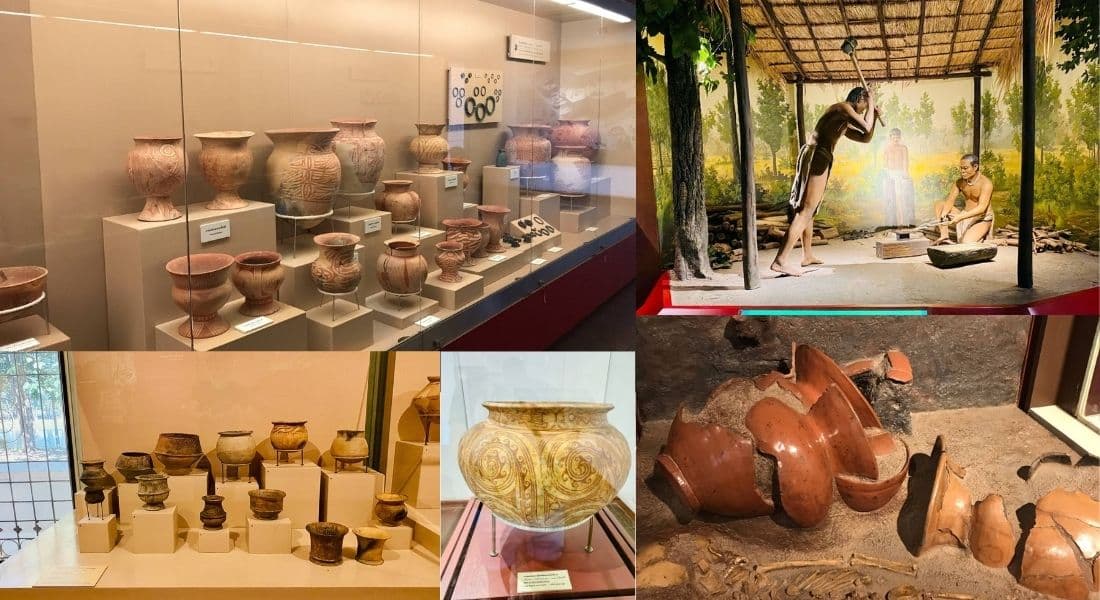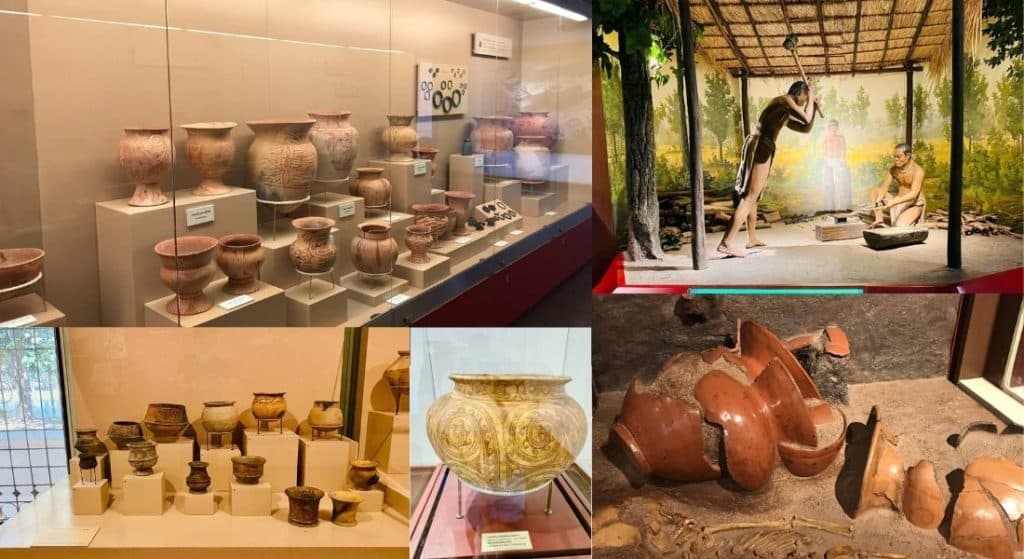 ขอบคุณรูปภาพจาก : เพจ พิพิธภัณฑ์แห่งชาติ บ้านเชียง , เว็บไซต์ Wongnai Warich Nathigoon
When traveling to a place rich in history and tradition like in Udon Thani, it's definitely a must to see its historic manifestations come to life in structure through the works of those who lived in such ancient times The Ban Chiang National Museum is a majestic world wonder, dubbed as a World Heritage Site by UNESCO in 1992, this historic feat in Thailand is considered to be the most significant settlement in Southeast Asia. This site boasts early manifestations of wet-rice agriculture, as well as metalwork. The Ban Chiang Museum houses archaeological artifacts dated as far back of its discovery in 1966, these artifacts showed proof of early efforts in understanding radiometric dating. Much is there to discover at Ban Chiang National Museum, best for those who enjoy learning about history and culture during their travels.
ขอบคุณรูปภาพจาก : เพจ วัดป่าบ้านตาด
Wat Pa Ban Tat is located in Tambon Ban Tat, features dense forestland with an area of approximately 163 rai and is a habitat of ample wildlife. The Temple was a residence of Luang Ta Maha Bua Yannasampanno, an insightful meditation monk master under Phra Achan Man PhuriThatto's school, who was much revered by the public and is suitable for Dhamma practice.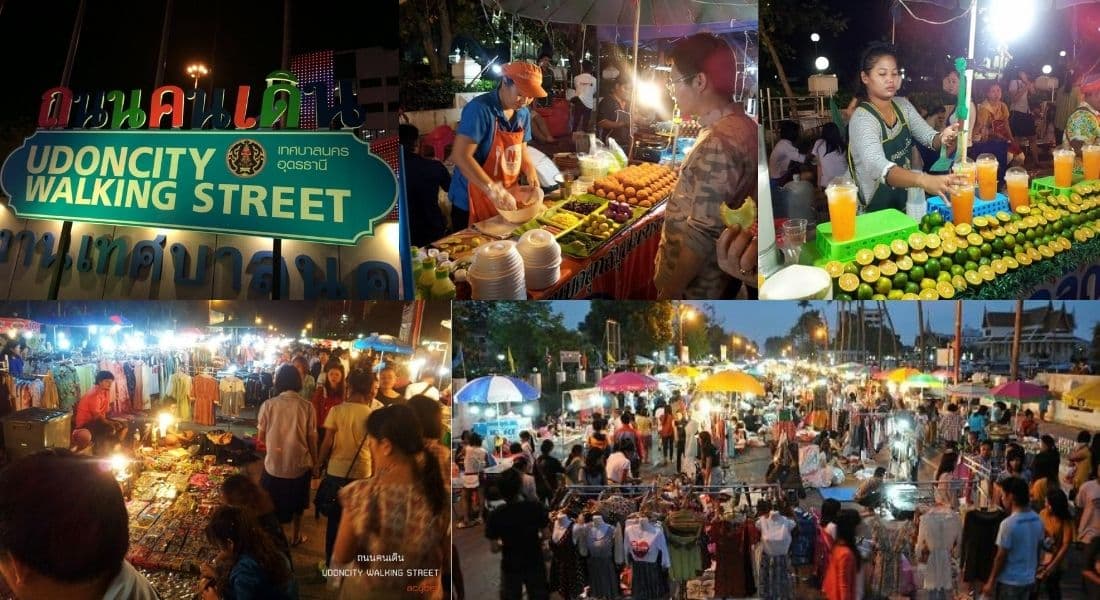 ขอบคุณรูปภาพจาก : เพจ ถนนคนเดิน เทศบาลนครอุดรธานี
Walking Street is located in the area of the Udon Thani Municipality, offers products that are harmless to the environment, handmade, artworks, rare items, local wisdom and Food. It provides the activity's space for students to show their Musical talents to do busking and this is "another happiness sharing from Udon Thani Municipality". There are more than 80 stalls on the street and also another walking street at the City Pillar Shrine. The market is open from 5 – 10 p.m. every Friday and Saturday.
8. Ban Na Kha Textile Market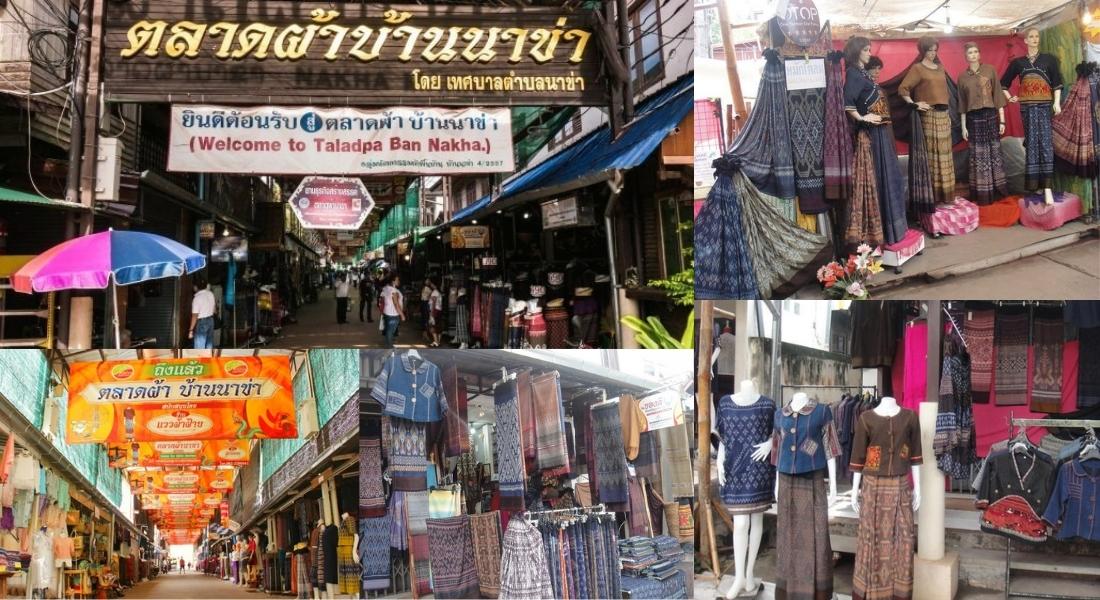 ขอบคุณรูปภาพจาก : เว็บไซต์ esan108.com , เว็บไซต์  thainews.prd.go.th
Ban Na Kha Textile Market is situated on Mittaphap Road, Udon Thani – Nong Khai route in Ban Na Kha before arriving at WatNakha Thewi, is a market of more than 30 shops formed by a group of textile weavers of Ban Na Kha and neighbouring villages consisting of shops selling Mi Khit or Khit silk pattern textiles. Each piece was woven in exquisite Khit patterns that is shiny and embossed, which is the identity of the Isan Cloth. Visitors can find some shops that sell products made of Khit textiles; such as, shirts, pants, skirts, shawls, backrest pillows, and souvenirs. For more information, please call Tel. 09 5672 4771.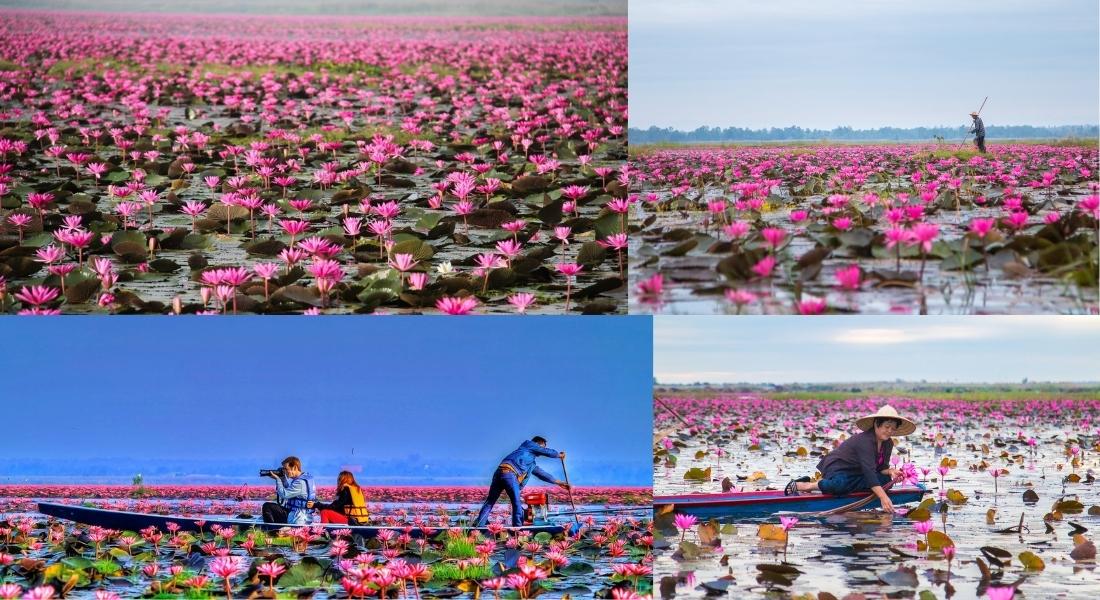 ขอบคุณรูปภาพจาก : เพจ ทะเลบัวแดง กุมภวาปี อุดรธานี
Red Lotus Sea is located in Nong Han, Amphoe Kumphawapi, is a natural water source enriched with numerous species of fish, fowls and aqua plants. Covering an area of 22,500 rai or 36 square kilometres, the attraction can be appreciated during December – February, where tourists can witness the breathtaking picture of endless water lilies blossoming and blanketing all over the Nong Han Lake, which the name Red Lotus Sea came from.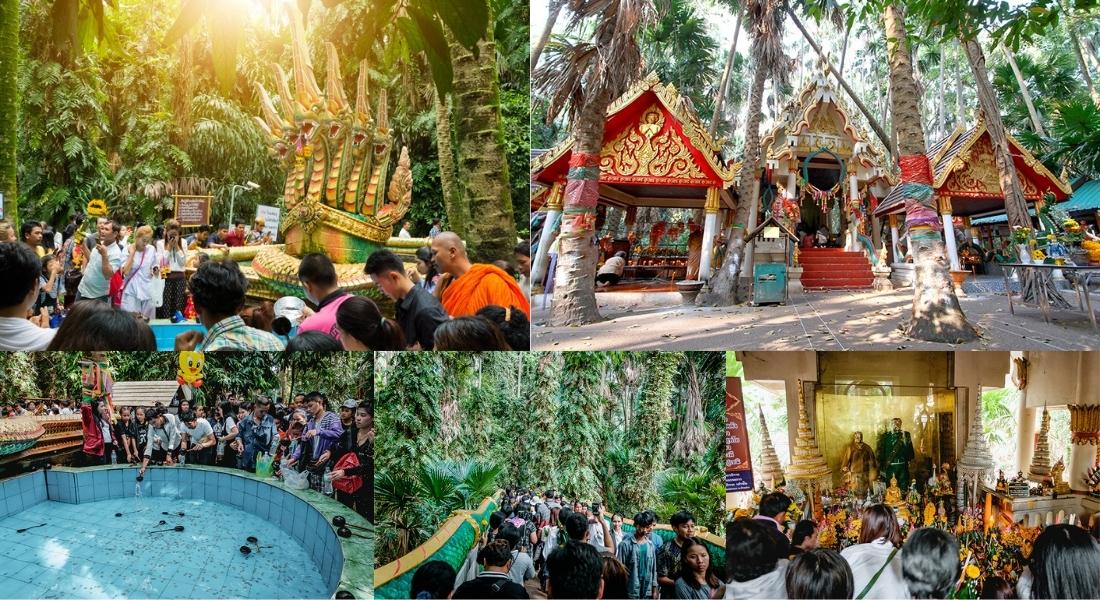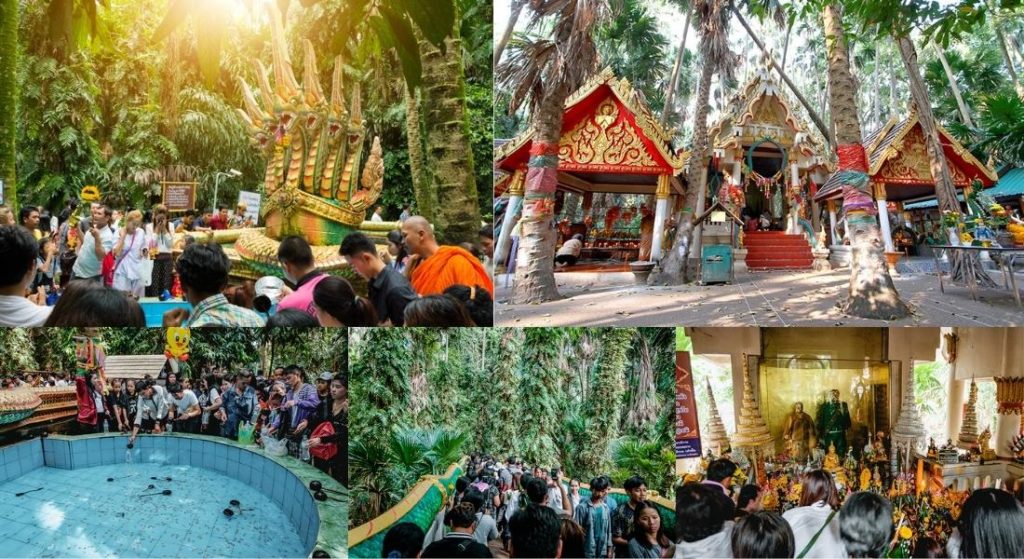 ขอบคุณรูปภาพจาก : เว็บไซต์ www.tqm.co.th
Kham Chanot situated at WatSiri Suttho, Tambon Wang Thong, is a sacred place that has been much revered and respected by the local people. It is said that this place is a gateway of the underwater world in regard to a legend of the great Naga or Serpent King according to the Isan and Lao people's belief. At present, the area is heavily covered by the groves of Chanot or Taraw palm trees, which are similar to palm and coconut trees in combination. The Pu Si Suttho Shrine and a sacred pond are located in the same area.